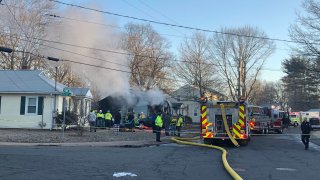 One half of a duplex is a total loss after a fire in Glastonbury on Wednesday morning, according to fire officials.
Dispatchers said they received a 911 call around 5:51 a.m. where the caller said "Oh my god," and then hung up. Authorities said they didn't know what was wrong until they arrived to the home on Harris Street and found a working fire.
Fire officials said one half of a duplex was on fire and it took a little bit to get it under control. The fire is out at this time.
The one half of the duplex where the fire was is a total loss, experts said. They believe the other half likely sustained smoke damage. The Red Cross has been asked to help the two families that are displaced from the fire.
Initially a woman was unaccounted for, but she has been found, authorities said. She had left before the fire started and was not in the area, they added.
A firefighter was treated for a minor burn and no other injuries were reported, according to officials.
The cause and origin of the fire is under investigation by the fire marshal's office.