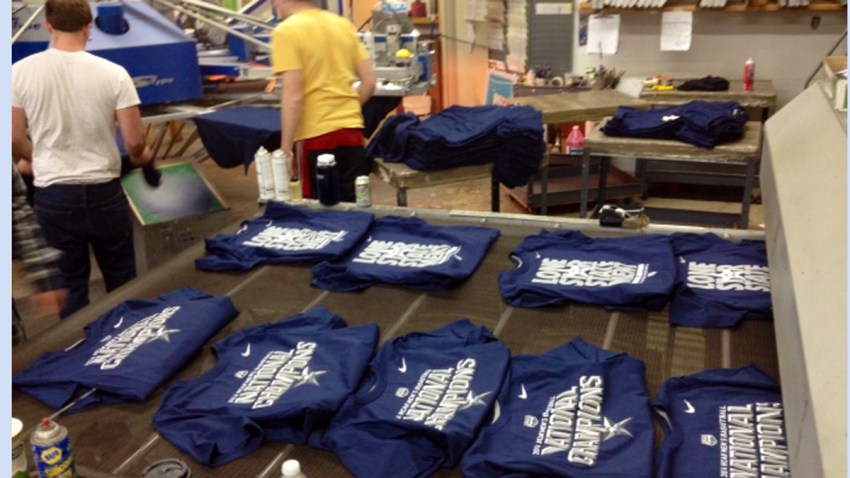 UConn national championship shirts are in high demand today and that means big business in Connecticut.

Zuse, an apparel company in Guilford, is printing UConn shirts.

Employees started working on them right after Huskies won and expect to make around 8,000 in total.

Jesse Mahon, of Zuse, said it's a great opportunity to work with a company like Nike.

"Whenever you kind of get lucky like this and have two UConn teams competing for national championships, it's almost like newfound business. We don't go in there every year expecting the Huskies to win every year, so when it happens, you're excited," Mahon said.
Zuse employees will be churning the shirts out through the day and hope to do the same thing after the UConn women's game.
"And now we're just pulling for the women, so we can do it all again," Mahon said.

Dick's Sporting Goods stores across the state opened early today to sell championship merchandise to fans.

The following stores have the merchandise.
Waterford Commons, at 915 Hartford Turnpike, #A1 in Waterford
Lisbon Landing, at 170 River Road, Suite 2 in Lisbon
Shoppes at Farmington Valley, at 110 Albany Turnpike in Canton
The Pavilions at Buckland Hills, at 179 Pavilion Drive in Manchester
State Line Plaza, at 130 Elm Street in Enfield
Connecticut Commons, at 280 New Britain Avenue in Plainville
Westfield Shoppingtown, at 470 Lewis Avenue in Meriden
Turnpike Plaza, at 2985 Berlin Turnpike in Newington
Danbury Fair Mall, at 7 Backus Avenue in Danbury
You can also order merchandise through the UConn Huskies Fan shop online.