Hundreds of people showed up to Hartford's Puerto Rican Day parade on Saturday.
It was a little different this year as organizers opted for a caravan, but still had a fun time celebrating Puerto Rican culture in a safe way.
"We're just excited to hear some live music, just to see our flags, just to see the community get together after a whole pandemic. you know, just to have a safe celebration, healthy and just being out here," said Patricia Vega-Dones of Hartford.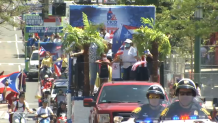 Organizers honored the essential workers who have been instrumental throughout the pandemic and encouraged those who haven't already to get their COVID-19 shot.