Tropical Storm Henri has made landfall along the Connecticut and Rhode Island border with the center of the storm currently moving through the greater Hartford area dropping heavy amounts of rain.
NBC Connecticut is receiving photos and reports of scattered wind damage, including downed trees and power lines, especially in the eastern portion of the state, including Plainfield, Thompson, Lisbon and Gales Ferry.
As of 3:30 p.m., there were nearly 32,000 outages of Eversource customers. United Illuminating reported 24 customers without power.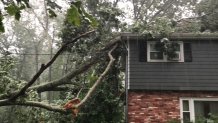 The town of Canterbury is 94% without power, according to Eversource's outage map for Connecticut. Lisbon and Sterling both are 63% without power.
Henri officially made landfall at 12:15 p.m. near Westerly, Rhode Island with maximum sustained winds of 60 miles per hour. After making landfall, the center of Henri headed to the northwest and moved through central Connecticut as it began to weaken further.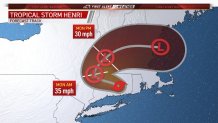 Henri was downgraded from a category 1 hurricane to a tropical storm on Sunday at 8 a.m. The storm continues to weaken quickly and could be a tropical depression later in the day, according to the First Alert Weather team.
A tropical storm warning is now in effect for the entire state. There was previously a hurricane warning for parts of Middlesex and New London counties, but it has since been changed to a tropical storm warning.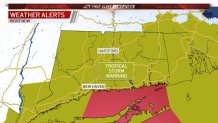 "We've lucked out with this storm. The storm weakened, it had a tough time strengthening yesterday," said First Alert Chief Meteorologist Ryan Hanrahan. "We're just very thankful that the forecast changed, the storm shifted to the east and we had milder conditions here in Connecticut."
Eversource tweeted it was prepared to respond to damage that would take up to 21 days to repair but now expects to be on the lower end of that range.
The rain is expected to continue in Connecticut through Sunday night with a remaining chance for rain on Monday.
"The bands of rain associated with #Henri are becoming more organized and heavier as the storm approaches. It will absolutely pour today into tonight," tweeted First Alert Meteorologist Bob Maxon. Maxon was using the word "deluge" repeatedly to explain what the I-91 corridor could expect in the form of rainfall Sunday afternoon.
Parts of the state could see more than six inches of rain from Henri. With the storm track shifting more to the east, that means Connecticut could face the heavy rain side of the storm.
"The heavy rain will impact parts of Connecticut," McGrath said.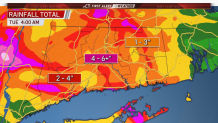 Impacts are expected across the Northeast from New York to Rhode Island and Massachusetts.
According to the National Weather Service, Groton's peak wind gust was at 53 mph. New London and Middletown both saw 49 mph, while Block Island and Narragansett, Rhode Island saw winds gust up to 69 mph.
Storm Surge and Flooding Concerns in Connecticut
"Good news for the shoreline. The winds continue remain out of the north (or offshore) which will limit the storm surge flood potential. There will still be some issues but I feel much better now than I did yesterday thanks to a jog east with the storm track," tweeted Hanrahan.
A flood watch has also been issued statewide through Monday morning.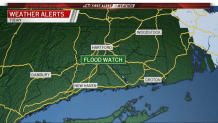 However, the greatest risk for flooding is the Housatonic River at Stevenson Dam where a flood warning has been issued.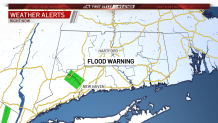 State of Emergency Declared
Gov. Ned Lamont issued a state of emergency Friday and activated the National Guard to help with search and rescue, clearing routes, power generation, and distributing supplies after the storm.
On Twitter, the governor said, "Right now, it's a good idea for everyone to be prepared and expect to shelter in place by Sunday afternoon through at least Monday morning."
President Biden approved Lamont's request for a presidential pre-landfall emergency declaration. As a result, the federal government will provide Connecticut with resources and assistance for Henri.
The governor's office said officials from the Federal Emergency Management Agency (FEMA) are embedded at the state's emergency operations center at the state armory in Hartford.
"I've received word that @POTUS has approved our request for Connecticut to receive a pre-landfall emergency declaration in advance of #Henri, making available federal resources to help us respond and keep folks safe," the governor tweeted.
The governor announced plans to lift a travel ban on I-95 at 5 p.m. Sunday of all empty tractor trailers, tandem tractor trailers and motorcycles. Lamont is still urging residents to stay off the roads until the storm passes if possible.
The majority of Connecticut's public transportation including transit bus, train, and ferry services will be suspended starting Sunday because of Henri, according to the state Department of Transportation.
Officials emphasized that Connecticut is sensitive to rainfall, which will cause numerous flooding issues where roads will become impassable, streams and creeks will overflow their banks, and rivers can rise and crest early next week.
Coastal flooding is also expected. Because the ground is already saturated, trees could uproot easier than normal, DOT officials said. Scattered tree damage and power outages are likely.
"The safety of Connecticut residents is our top priority," said DOT Commissioner Joseph Giulietti. "We urge all travelers to avoid standing water on roads and highways where vehicles may stall. And with soaked grounds, there may be numerous downed trees. The suspension of most of our public transit services is about CTDOT working with our partners in public transportation and ensuring the safety of all, whether on public transportation or on our highways."
Flights in the Northeast Impacted
The Connecticut Airport Authority said Bradley Airport was open as of 9 a.m. Sunday, but half of the day's arriving and departing flights were canceled by the airlines.
The airport is advising passengers to check with their airline before heading to the airport.
State Parks & Forest Areas Closed Sunday
The Department of Energy and Environmental Protection announced that all state parks and forest areas will be closed Sunday due to Tropical Storm Henri.
They're expected to reopen Monday pending any potential storm impact. Any closures will be communicated via Twitter.
Residents along several shoreline cities and towns are being told they have to evacuate their homes because of a warning that's been issued ahead of the arrival of Henri.
See the full list of cities and towns at the link below.
Many Businesses and Religious Locations Closed
Many businesses closed and religious services were canceled due to Henri.
Westfarms shopping center announced it will be closed on Sunday.
You can find the full list from our First Alert Closing Central here.
Department of Consumer Protection Warns of Dangers, Scams Ahead of Tropical Storm Henri
The Department of Consumer Protection (DCP) is reminding the public to be careful of potential scams and dangerous situations ahead of Tropical Storm Henri.
Officials emphasized that state law prohibits price gouging on consumer items and energy resources during a civil preparedness emergency in Connecticut. Also, energy dealers can't charge excessive prices for energy resources such as heating oil, gas, propane, natural gas, electricity, and wood fuels.
For a full list of what to be aware of, click here.