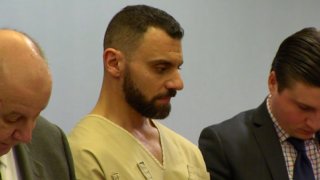 Court records show an Ellington, Connecticut man charged with killing his wife wiped out most of her assets in the months between her death and his arrest.
The Hartford Courant reports Richard Dabate took hundreds of thousands of dollars from his wife's retirement accounts, emptied her bank accounts and was about to sell the couple's Vernon home before a judge halted the sale.
The details on Connie Dabate's assets were released Tuesday after a probate judge scheduled a hearing to learn why her estate was worth only $6.42.
A lawyer representing the woman's sister says he plans to file a motion for Richard Dabate to return $70,000. That was the amount her estate was reportedly worth before her death in December 2015.
Dabate has pleaded not guilty to murder.
Connie Dabate, 39, was found dead of gunshot wounds and Richard was found wounded on Dec. 23, 2015, when authorities responded to a burglary alarm at their home. Officials said at the time that the couple's sons, who were then ages 6 and 9, were in school at the time.
Richard Dabate claims his wife was killed by an intruder who also tied him up and assaulted him.
Police said his account of his wife's death differed from Fitbit information.
Copyright AP - Associated Press