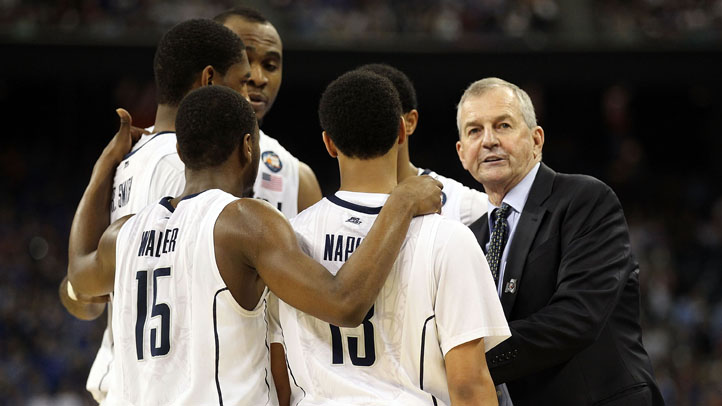 With 16.6 seconds to go in the game and UConn leading by two points, freshman point guard Shabazz Napier turned the ball over. Fourteen seconds later, he got the chance to redeem himself.
Kentucky missed a desperation three-pointer, Napier grabbed the rebound and was promptly fouled. He then nailed two free throws and for the tenth time in 10 games, the Huskies were winners, this time defeating the Wildcats, 56-55.

As has been the case most of the NCAA Tournament, Napier provided a spark off the bench. In the previous two contests he took the floor after the first television timeout and both times the Huskies went on scoring runs. Against Kentucky it was no different. UConn ran off 10 in a row midway through the first half to take a 19-12 lead and reeled off eight more just before half to go up 31-21.

Of UConn's freshman, Jeremy Lamb has received most of the national media attention during the Huskies' run through March (and rightfully so), but Napier has quietly emerged as the floor leader who allows Kemba to do what Kemba does. When asked last week if it was true that Napier really wasn't afraid of anything, coach Jim Calhoun offered this: "My assistants would tell you he's not afraid of anybody except for me. Whether he is or not, you'd have to line up one hell of a dragon with fire coming out for Shabazz to even flinch."

Fearlessness isn't a bad quality to have in your point guard this time of year. But Napier didn't beat Kentucky by himself.

Kemba Walker scored nine points in each half, and added seven assists and six rebounds. He turned his ankle with 13 minutes to go, and while it didn't seem to affect his play, for the first time all year Walker looked noticeably gassed. Two uncharacteristic turnovers late confirmed it. Still, Walker did enough to draw the interest of Kentucky defenders, often allowing him to find open teammates for easy baskets.

During the first Kentucky-UConn match-up last November, Alex Oriakhi scored 18 points and grabbed 11 rebounds. Against the Wildcats Saturday, the box score says Oriakhi was less of a factor. He scored eight points, and pulled 10 rebounds but his contributions -- on both ends of the court -- were as important as Napier's or Walker's.

So while Walker didn't score at least 20 points for the first time in four games, the guys he has carried for most of the season picked him up. And not just offensively -- the Huskies continue to play some of their best defensive basketball of the year, and the first half was a testament to that. That didn't last -- the Wildcats went on a three-point shooting spree after the break and took a 35-33 lead with 15 minutes to go -- but the Huskies regrouped quickly.

"[Kentucky] came out and started making threes … and got back in the game, got the lead," Calhoun said after the game. "And then our kids decided they didn't want to go home, this was too much fun, so we're going to stick around 'til Monday."

UConn will now face the Butler Bulldogs Monday night in the NCAA Championship game, and Calhoun knows what he's up against. "I've seen what they've done to Pitt, which is one of the best teams in America, and to be honest with you, we got a heckuva challenge Monday night. But the fact that we're playing Monday night, it's beautiful."

Given that UConn was unranked to start the season, and has had their share of bumps along the way to Houston, it's a beautiful thing, indeed.