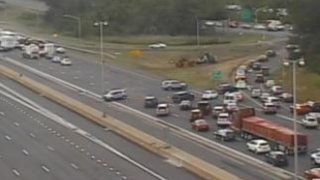 Two people were seriously hurt in a crash on Interstate 84 westbound in East Hartford Thursday, according to state police.
Connecticut State Police said a Jeep Compass rear-ended a motorcycle while both vehicles were traveling in the center lane near exit 57. As the Jeep driver tried to move over to the shoulder, the two people on the motorcycle fell off as the motorcycle was moved along by the larger vehicle.
Both riders were taken to local hospitals with serious injuries. The Jeep driver was also transported for suspected minor injuries.
The crash remains under investigation. Any witnesses or drivers who may have dash cam footage of the crash are asked to call police at TFC John Wilson #1060, at Troop H, at 860-534-1098 or john.wilson@ct.gov.
More details were not immediately available.