In a medical emergency, doctors, nurses and other people on the front lines in health care and social services are our lifeline. But there is a danger that these lifesavers say they are facing on the job.
NBC Connecticut Investigates recently spoke with a group of health care workers employed at medical facilities throughout Connecticut. Those employees said that they can find themselves on the receiving end of verbal threats and even physical violence, often from the very people seeking help.
Registered nurse Anne-Marie Cerra works in the emergency department at Manchester Memorial Hospital. It can be a high-stress environment on any day, but Cerra said she has seen it become violent. She recalled the moment a young woman came into the ER in need of immediate attention.
"It took six of us to restrain her because she was trying to harm herself," said Cerra. "She opened a tube of blood and she threw it at us and she bit three of my workers. She kicked us. She punched us."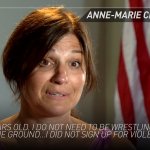 This is not an issue specific to medical facilities in Connecticut.
According to data from the U.S. Department of Labor's Occupational Safety and Health Administration (OSHA), incidents of serious workplace violence were at least five times higher in health care than in other industries.
In a 2018 poll conducted by the American College of Emergency Physicians, 47 percent of respondents said they had been physically assaulted.
Lisa D'Abrosca, a registered nurse in the medical/surgical unit at Lawrence and Memorial Hospital in New London, said verbal or physical assaults are common. "I'll listen to you, I'll hold your hand when you cry, but I don't want to be your punching bag," she said.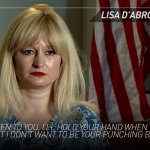 Some medical professionals said without some kind added protections and accountability, their safety, and even the safety of patients and their families, will be at risk.
"At the end of the day when I have scratch marks on my skin and I have to get in the shower because I was spit at or someone threw blood at me ... you have to ask yourself, 'should I go work somewhere else?'" asked Cerra. "I'm 52 years old. I do not need to be wrestling people to the ground."
"I don't know how you could know what it's like to be a health care worker unless you are one," said John Brady, a registered nurse who worked for more than two decades in the ER at Backus Hospital in Norwich.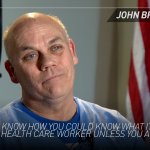 Brady is now vice president of AFT Connecticut, a federation of labor unions, which is pushing for more protections for workers in the health care and social services industries. The worry is that without action, the risk of violence grows and the number of people willing to do this critical work shrinks.
"I think that would have some nurses turn tail and say 'I don't want any part of this field; thank you very much'," said D'Abrosca.
Since 1996, OSHA has published voluntary guidelines that health care employers can take to reduce the risk of violence.
Connecticut U.S. Rep. Joe Courtney, a Democrat from the 2nd Congressional District, first focused on this issue in 2013 and said more must be done.
"The rate of growth and incidents is going up in a very sort of scary way," said Courtney.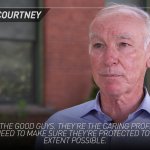 Courtney recently introduced H.R. 1309, the Workplace Violence Prevention for Health Care and Social Service Workers Act. If signed into federal law would direct OSHA to go beyond those voluntary guidelines, and require employers to have violence prevention plans in place. Those facilities would also be required to report all incidents of violence to OSHA, just as a chemical spill or even a slip or fall must be reported.
"They're the good guys. They're the caring professions. And we need to make sure they're protected to the best extent possible," said Courtney.
NBC Connecticut Investigates contacted all of the medical facilities that employ the health care workers in this story. In each case, requests for comment were referred to the Connecticut Hospital Association (CHA), which does not dispute the federal statistics concerning health care workers.
"These statistics confirm the experience of many health care and social services workers," said Carl Schiessl, Director of Regulatory Advocacy at the CHA.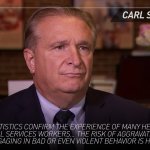 The CHA said it is working to find solutions, and points to its Safer Hospitals Initiative that began in 2016, which includes de-escalation training specific to each hospital across our state.
"I think the unique situation in Connecticut is we're already taking steps and, frankly, in Connecticut hospitals, we're very proud of the work we're doing," Schiessl said.
Currently, H.R. 1309 has about 200 co-sponsors in the U.S. House.