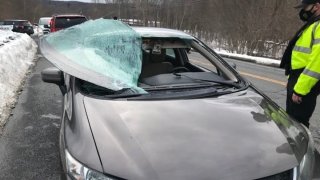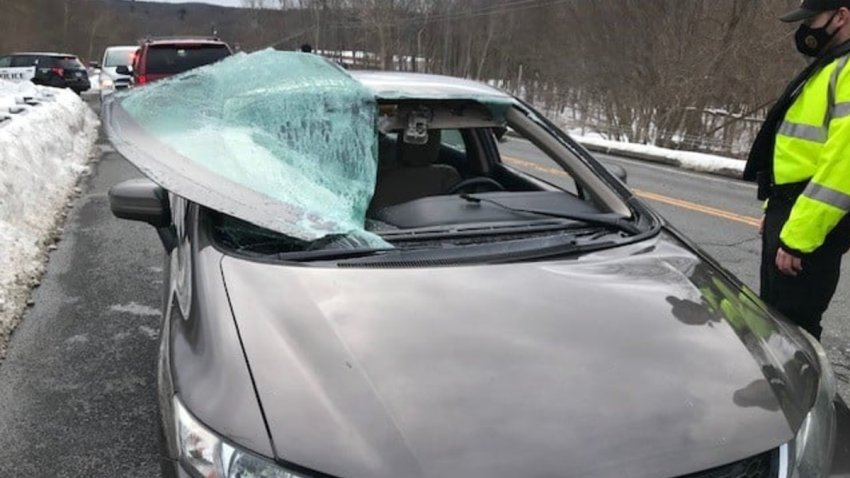 A large chunk of ice flew off the top of a box truck in Wolcott Wednesdsay afternoon, sending it crashing through the windshield of a passing car and injuring the driver, according to police.
It happened on Wolcott Road in the area of the Wolcott Lanes bowling alley around 2 p.m.
The ice missile hit the driver of the car in the face, causing several lacerations, police said.
The truck driver continued southbound on Wolcott Road and drove away, possibly unaware that the ice had flown off the truck, police said.
The victim, 62-year-old Canorris Barron of Meriden, spoke with NBC Connecticut over the phone.
"I was going up the hill and a truck was coming down and I see the big block of it fly off the truck and it was coming and I just - oh my God - I thought it was going to go over and it came right through the whole windshield, took the whole windshield out and it hit me right in the face," he explained.
Barron was able to pull over and call for help. He has cuts on his arms and face.
"My face just hurt. I feel like someone hit me with a bat," he said.
No one else was in the car at the time, and Barron said he's glad it wasn't worse.
"I thought I was going to crash for a moment when this hit me," he said.
"I'm just happy I made it through."
Wolcott police posted several photos of the damage caused by the ice on their Facebook page.
They also reminded drivers it is a motor vehicle violation for a driver not to clear ice and snow from the hood, trunk, and roof of their vehicle.
"It takes three to five minutes to clean off your car you can prevent something that would be a tragedy where someone could lose their life because you were too lazy to clean your car off," Wolcott Police Chief Edward Stephens said. "Take the time."
Police said they are looking for the truck driver.