It was an impressive storm and a real challenge to forecast. One of the hardest parts of the forecast was figuring out which type of precipitation we'd see - snow, sleet, or freezing rain - and when the change in type would occur.
The good news is that we were able to accurately toss most of the computer model solutions we saw because we knew there was a good chance they were far too warm. The sadly inaccurate GFS had temperatures reaching 50F in Hartford during the storm. The actual high was in the 20s. Just an abysmal performance.
One of the most important parts of being a meteorlogist these days is knowing when to use which computer model. All of our models have different strengths, weaknesses, and uses. Not all are created equal! For example, low level temperature forecasts on America's flagship model, the GFS, are routinely off by 10 or 15 degrees in storms like this one. A 25F temperature bust is a new low for the model. Part of the reason is that these global models struggle with small scale features near the ground and come up with unrealistic solutions - like a surface low tracking over Hartford in this setup. The actual low tracked where one would expect it to - over the south shore of Long Island.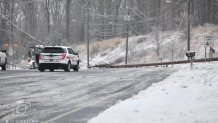 Our high resolution models - like the 3km NAM, the HRRR, and the HREF (an ensemble of a few high resolution models) did a very good job. Particular kudos go to the HREF. We relied heavily on these and were mentioning the potential for significant ice around New Haven the day before the storm when many models had 50s for the same area.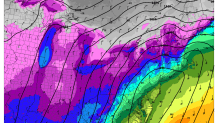 The one thing we did miss was the location of the biggest icing. While we did mention the New Haven area as a trouble spot I was highlighting the Farmington Valley and Litchfield Hills as one of the areas most at risk. The cold was so deep that almost all of what fell was snow than sleet - the more shallow cold air was displaced south of Hartford.
It appears that between 1/2 and 3/4 inch of ice stuck to trees and power lines from Middletown west through Newtown. At the height of the storm more than 30,000 utility customers were without power including 100% of Bethany.
There was damage as far south as New Haven - including downtown and East Rock.
It was quite a storm. The snowfall forecast was OK (generally a bit too high - especially at the coast) but the forecast of a flash freeze and ice storm worked out well. Another good reminder that figuring out which models to use and which models to toss is probably the most important part of my job.