The icy roads led to crashes across Connecticut on Wednesday morning and the state Department of Transportation asked drivers to stay off the roads unless it was for essential travel.
Some light freezing rain caused roads to ice up.
The state Dept. of Transportation asked drivers to stay off the roads if they could while conditions were slick.
Here is a list of some of the crashes:
Bristol
A vehicle crashed into a house on East Road. It's unclear if anyone is injured.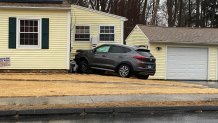 Cromwell
An overturned tractor-trailer caused lane closures on Interstate 91 South between exits 21 and 20.
Hamden
There was a crash with injuries on Route 15 northbound at exit 62.
Another crash with injuries was reported on Hamden Hills Drive at Evergreen Avenue.
Newtown
Route 25 was closed at Mile Hill Road due to a truck crashing into a pole.
Plainfield
A crash involving a tractor-trailer closed part of Interstate 395 South between exits 29 and 28. State police said there are serious injuries reported.
Stamford
A jackknifed vehicle closed the off-ramp of I-95 north at exit 8.
West Hartford
A bus crashed into the front yard of a home in West Hartford.
Willington
I-84 west was closed between exits 70 and 69 because of a multi-vehicle crash.
Woodbridge
Between 6:45 a.m. and 11:30 a.m., Woodbridge police responded to 14 crashes, including one involving a school bus, and there were no reported injuries.
Police said 70 percent of the crashes happened on Seymour Road, or Route 67, and traffic was impassable on Seymour Road for several hours.