A shooting involving a police officer is under investigation in Bridgeport on Tuesday, according to Connecticut State Police.
State police said a Bridgeport police officer assigned to the federal Safe Streets Task Force was involved in a shooting at the intersection of Main Street and Catherine Street around 10:15 p.m.
According to authorities, the victim was transported to the hospital, was treated for non-life threatening injuries and has been released.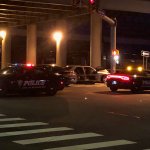 State police said detectives from the Connecticut State Police Eastern District Major Crimes Squad were requested to the scene and have assumed the investigation. No Connecticut State Police personnel were involved in the incident.
The Bridgeport State's Attorney has requested that the Stamford State's Attorney oversee the investigation, state police added. The investigation is ongoing.
On Friday, the office of the state's attorney for Stamford and Norwalk released a preliminary report saying that information uncovered is subject to an investigation bt the state's attorney's office and state police.
The preliminary report says FBI agents and Bridgeport police officers assigned to the federal Safe Streets Task Force were trying to stop a vehicle after obtaining information that someone in it had an illegal handgun and planned to use it, and the driver backed into a vehicle as well as the door of an unmarked cruiser, wedging a Bridgeport police officer between the door and the frame of the car. The driver then drove toward an area where officers were in the road, the preliminary report says.
A Bridgeport police officer fired one shot, hitting the driver in the upper leg, according to the report, and the driver hit a light pole. His injuries were not life-threatening and he was taken to the hospital.
A passenger ran from the vehicle and was apprehended, the report said. A loaded semiautomatic handgun was found on the floor of the passenger side of the vehicle, authorities said.
The Bridgeport State's Attorney's Office will determine whether charges are filed against the driver or the passenger.
The report goes on to say that none of the officers involved were wearing body cameras and the FBI does not require agents to wear them.