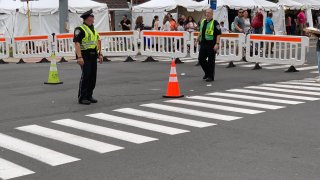 There is an increased police presence at the Southington Apple Harvest Festival for what organizers said is to ensure the safety of the public. This comes just one day after a teen was stabbed following an altercation at the festival and another teen was arrested.
According to festival organizers, there are officers at the festival to route traffic around the festival, assist pedestrians at the intersections near the festival and provide security at access points.
Officers are on foot, bicycles, motorcycles and vehicles patrolling areas in and around the festival, organizers said.
Police said they are currently investigating an incident that happened last night where a teen was stabbed following an altercation at the festival.
The 16-year-old boy who was stabbed was transported to a nearby hospital and was taken into surgery, police said. He is listed in stable condition.
Within minutes of the report of the disturbance, authorities said they were able to find and take a 17-year-old Southington resident into custody. The 17-year-old is facing breach of peace charges and was released.
Investigators said they believe the stabbing was an isolated incident involving what appears to be youths from town.
Detectives said it is possible that more people could face charges in connection to this stabbing incident.
Anyone with information and/or video is asked to call Detective Armack at (860) 378-1649.