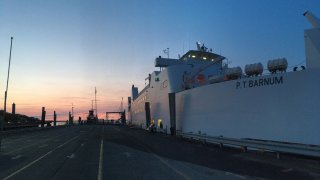 A man was arrested in connection with a bomb threat made to Bridgeport and Port Jefferson ferries Wednesday afternoon.
This is the second time in a week's span that the ferries received a bomb threat. The Bridgeport and Port Jefferson ferries were evacuated on Sept. 6 after receiving a bomb threat.
The U.S. Coast Guard said a report of a bomb threat came in a little after 12 p.m. The bomb was reportedly aboard one of the ferries traveling from Port Jefferson to Bridgeport.
Police said all three vessels were thoroughly searched and deemed safe. Ferry operations resumed afterwards with an increased security presence.
Officials said they identified a suspect and he was taken into custody at about 2 p.m. It appears that the same person is also responsible for last week's threat, according to authorities.
Bridgeport Police, Connecticut State Police and the FBI responded to the scene and are investigating.
Authorities said they'll reassess later to see if an increased security presence is needed for the rest of the week.