NBC Connecticut Meteorologists have issued a First Alert ahead of Tuesday's severe weather threat.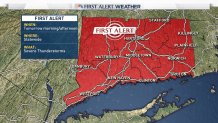 The first round of storms arrived before 5 a.m., with some thunder and lightning.
The second round of storms will arrive Tuesday afternoon and linger into the evening. Storms are forecasted to arrive in the state between 3 p.m. and 7 p.m. A few of the storms could be severe with damaging winds and frequent lightning.
Take a look at the storm risk for Tuesday, the highest risk is damaging winds a slight chance of a brief tornado or isolated flooding.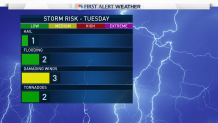 Stay with the NBC Connecticut First Alert Weather Team for the latest on Tuesday's severe weather threat.