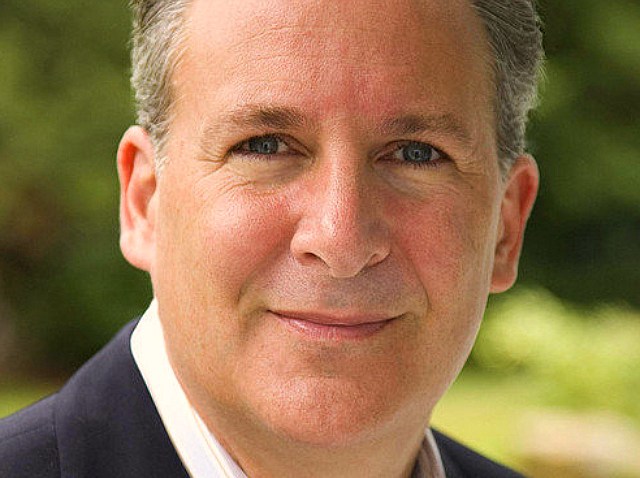 Peter Schiff says he's confident he'll qualify for the Republican primary ballot for U.S. Senate even though the state is investigating whether his campaign violated the law while collecting petition signatures.
The glimpse into the Schiff signatures comes after a former tea party group activist from Windsor Locks filed a complaint last week.
He claimed that the candidate he improperly used out-of-state workers to gather petition signatures for the Aug. 10 primary ballot.
During an endorsement at the Capitol on Tuesday, the Weston businessman denied any wrongdoing and said even if some of the signatures are thrown out, he should have more than enough to gain a spot.
The Associated Press obtained the complaint on Monday that James Bancroft filed, claiming that a supporter of Weston businessman Schiff approached him outside a store in Newington last week and asked to sign a petition.
Bancroft said he struck up a conversation with the worker, who said he was from Montana.
Bancroft, of Windsor Locks, filed the complaint with the State Elections Enforcement Commission on Friday.
Commission spokeswoman Nancy Nicolescu said Bancroft's complaint has been assigned to a staff member for an investigation.
Schiff, a nationally known economist and money manager, fell short of receiving enough support from Republican delegates at last month's state convention to automatically win a spot on the Aug. 10 primary ballot.
Former wrestling executive Linda McMahon secured the party's endorsement and former U.S. Rep. Rob Simmons won enough delegates to appear on the ballot, he has since ended his campaign.
Jennifer Millikin, Schiff's campaign spokeswoman, acknowledged the campaign has hired a private company, the Lincoln Strategy Group, to help collect the 8,268 signatures -- 2 percent of Connecticut's registered Republicans -- needed to get Schiff onto the ballot. But she said both volunteers and the paid workers are following all rules and regulations for petition signature gathering.
"The Lincoln Strategy Group has assured us that they are working to uphold all rules and regulations regarding the gathering of petitions," she said.
She said some people "were removed from the project" when it came to the company's attention that "certain petition gatherers were not in compliance." Millikin said she did not know if those compliance issues had to do with the workers' home residences.
The campaign expects to submit more than the required 8,268 signatures to local registrars of voters, in the towns where the signatures were collected, by Tuesday's 4 p.m. deadline. It could take more than a week before the names are reviewed and it's ultimately determined whether Schiff has qualified to appear on the ballot.
Instructions posted on the Secretary of the State's web site concerning collection of nominating petitions say a circulator must be a U.S. citizen, at least 18 years old, a Connecticut resident and not be on parole for a felony conviction.
Bancroft said that shortly after talking to the petition worker from Montana, he said met two others who said they were being paid to collect signatures for Schiff. He said one identified herself as a resident of Montana, employed by a firm she said was National Ballot Association and was being paid $2.25 per signature.
He said the other worker told him he was a Republican voter, registered in Connecticut and was being paid $100 in cash per day to witness the process. Bancroft took photographs of all three people.
Millikin said Schiff's campaign is not aware of National Ballot Association and is only using Lincoln Strategy Group, which has offices in Tempe, Ariz., and Albuquerque, N.M.
Tuesday is the deadline for candidates to file petitions to appear on the ballot.

Copyright AP - Associated Press