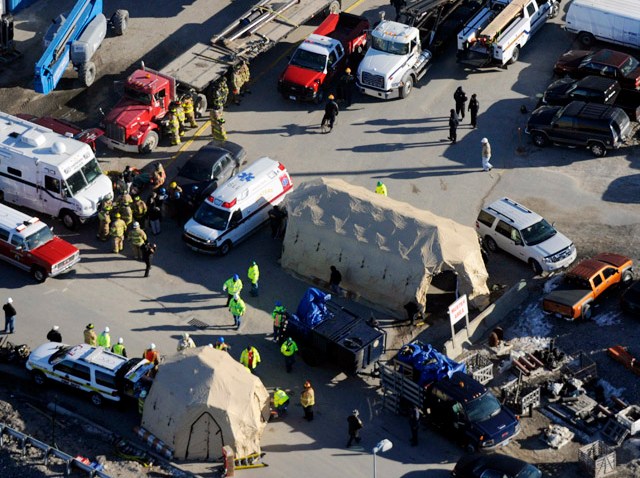 Investigators are interviewing people on Wednesday as snow suspends the physical search for evidence at the site of the explosion on Sunday.
The explosion at the Kleen Energy plant on River Road was reported just after 11 a.m. on Sunday. Peter Chepulis, 48, of Thomaston, Ronald Crabb, a 42-year-old father of two from Colchester, Raymond Dobratz, of Old Saybrook, Roy Rushton of Hamilton, Ontario, Canada and Chris Walters of Florissant, Missouri, who were killed in the blast.
On Wednesday, there was a moment of silence at 11 a.m. in their honor.
For the past three days, investigators have been working at the site, searching for evidence. The search warrant is set to expire at midnight and police told the Middletown Press that they plan to seek an extension.
Middletown Fire Department Deputy Fire Marshal Al Santostefano told the Press that about 300 hazardous cylinders containing flammable gas for welding and pipe cutting have been removed.
Officials also said they are close to locating the point of origin.
Also Wednesday, the brother of one of the blast's victim said he was unhappy with the project and had described problems, tensions and pressure to finish the job.
Carl Crabb said his brother, Ron, told him "the job was really screwed up" and he wished he hadn't taken it.
Crabb's account comes after the son of another worker killed said his father was working more than 80 hours per week.
Copyright AP - Associated Press