A cancer survivor and current fighter is wondering why she's no longer a priority. People with underlying conditions, those considered high-risk, are no longer next to get the vaccine.
"I am a 16-year metastatic breast cancer survivor," said Barb Roderick.
A picture shows a moment of triumph for Roderick. She and her oncologist are holding a sign showing she beat cancer. But then seven years ago, it came back. She has stage four breast cancer, and she's been on chemo fighting ever since.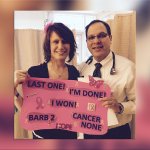 "I have to be very cautious of who I spend my time with, how I spend my time. And then COVID showed up," said Roderick.
Roderick hasn't been able to see her loved ones because getting COVID-19 could be a death sentence.
"I miss my family to pieces, and I can't see them. I'm not comfortable seeing them until I get this vaccine," said Roderick. "It's very self-isolating, and it's very depressing."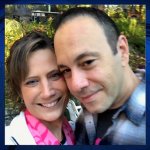 She was looking forward to next week. As someone with an underlying health condition, that's when she thought she'd be eligible for the vaccine. Then she heard the governor's announcement that age would be the determining factor for who gets the vaccine next. Based on that, she wouldn't be able to get it until mid-April.
"It broke my heart, and I just...I started crying," said Roderick. "I'm 44 years old. I have all the fight left in me in the world, but I need that vaccine. And I need it sooner than someone who is 55 and perfectly healthy."
The CDC says cancer patients are at increased risk of severe illness from the virus. The American Cancer Society says people fighting cancer should be included in high-risk groups prioritized for vaccination.
For Roderick and many others, Monday's news is a heavy blow.
"At least if I'm vaccinated, I have some kind of semblance of maybe I can get back to a little bit of my real life for however long that life may be," said Roderick.
Facing down a terminal illness for seven years, Roderick says she thinks she could fight on for at least another seven years but that she needs help.
"There are a ton of us hardcore, hardcore fighter/survivors," said Roderick. "I'm not giving up and neither are they. So don't give us one more roadblock."
"COVID sucks. Cancer sucks. It all sucks. Only thing you can do is try and be positive and look towards the next step, and unfortunately, I feel like the rug got pulled out from under me today with the next step," said Roderick.
Hearing from state officials that using age simplifies the vaccine distribution brings no comfort to those fighting for their lives.
"We deserve every fighting, every fighting chance we have. Our time is so limited to begin with. Don't shorten it by trying to take the easy way out," said Roderick. "Take care of those that are the most in need, not necessarily the easiest to prescribe the doses to."