There was a devastating loss in Prospect after dozens of animals died in a barn fire.
They had provided comfort to so many including as part of an animal therapy program for kids.
"I'm in shock. I don't think it really hit me," said Kelly Cronin, Kelly's Kids executive director.
Cronin was still in disbelief that she lost dozens of animals in a barn fire in Prospect on Friday.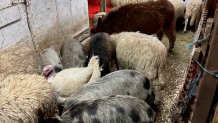 "I started screaming and just started saying, my son came out, kicked the door in, tried to get them out, and the flames were so engulfed he was like mom they're gone," said Cronin.
Cronin says she had put many of the animals in the barn because of the cold conditions.
There were roughly 60 that were like her good friends: pigs, geese, sheep and mini donkeys to name a few.
"They are just unconditional. They just love you no matter what you do. If you have a bad day, they don't care. They brought a lot of happiness to a lot of kids," said Cronin.
The animals were part of Kelly's Kids.
They take part in various activities with the non-profit including an after school program, visits to seniors and animal therapy for kids in crisis.
Now as programming continues there will be some heartfelt chats.
"It's kind of talking to them about loss and accidents and kind of what happened. They don't deserve this. They don't. They've been through a lot," said Cronin.
Thankfully the Kelly's Kids building is okay and some animals were not in the barn at the time.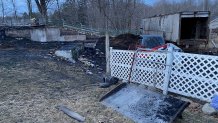 And Cronin says they will rebuild.
"It's just devastating we have to go through this but we will get through," said Cronin.
The owner says she's overwhelmed by the support from the community.
You can learn more about the organization and its fundraising on the Kelly's Kids Facebook page.