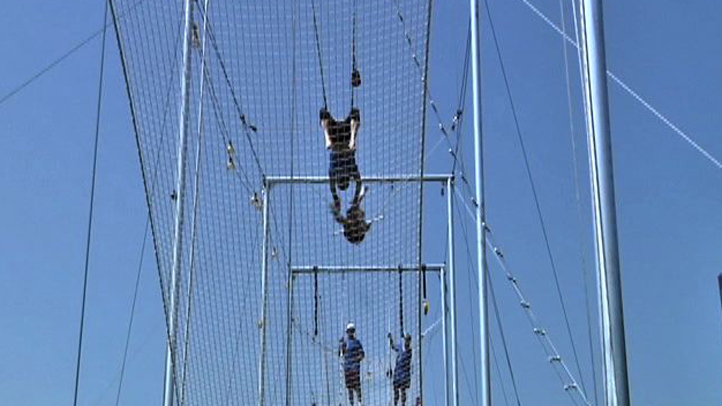 Allie Keith is making the climb of her young life as she and her camp cohorts take a leap of faith at Tito Gaona's Fantasy Flying Circus camp.
They've come to Connecticut for the first time ever, taking up residence for two weeks at the Mandell JCC's Swim and Tennis Club in Bloomfield to spread the joy of the aerial arts.
Elizabeth Sibert, a Boston native, has performed the circus arts for years and serves as one of the primary trainers at the camp.
"We get them to challenge themselves physically and mentally, get them to think about what they're doing, but also to let them learn what fun the circus is," she said.
The kids try their hands at all sorts of circus skills,including juggling, plate-spinning, walking on a large ball and, of course, the flying trapeze.
A big part of this camp is building self-confidence and getting kids to overcome their fears.
"You've got to really do your best and believe, and if you do it a lot, you'll not really be scared," Sophie Glaser, 7, said.
The combination of confidence and camaraderie make this camp soar.
"One of my major goals to have them realize that not everything in life is a competition, especially a circus. It's all about teamwork," Sibert said.
Tito Gaona's Fantasy Flying Circus Camp is coming back to Connecticut next summer, so even the biggest kids will get the chance to fly again.