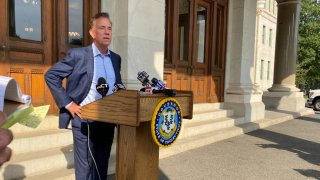 Thousands of low-to-moderate income working people and families in Connecticut will see a larger state tax refund after the Connecticut Earned Income Tax Credit increases this year.
Governor Ned Lamont said it is increasing from 23% of the federal credit to 30.5%.
"It will result in additional $40 million being delivered to the nearly 195,000 households that are eligible for the tax credit, for a total of $158 million," Lamont said in part in a release.
The increase is designed to help struggling people in the state so they can have more money for medical care, food and other needs, according to officials.
Lamont also said the tax cut is for working families and middle class families to help make this state a little more affordable.
"Numerous studies have shown that this tax credit is one of the best anti-poverty tools we can use because it encourages work, boosts economic stability, and uplifts generations to come," Lamont said in part in a release.
Officials encourage anyone who may be eligible to access the credit. To qualify, filers must have eligible earned income and an adjusted gross income that is less than:
$51,464 ($57,414 married filing jointly) with 3 or more qualifying children
$47,915 ($53,865 married filing jointly) with 2 qualifying children
$42,158 ($48,108 married filing jointly) with 1 qualifying child
$15,980 ($21,920 married filing jointly) with no qualifying children.
Last year, approximately 175,000 households across the state benefited from the credit, according to state officials.
Lamont said the increase adds up to about $500 more a year.