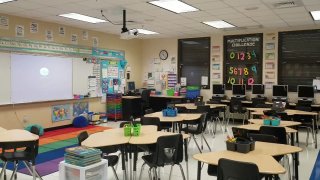 The state is expanding access to a program that encourages students to consider careers in education.
The governor announced Tuesday that the Educators Rising Academy curriculum will expand to 10 school districts across Connecticut.
The program includes curriculum, teacher training, and "Beginning to Teach" micro-credentials for students, according to the governor's office, and is intended to be part of a "grow your own" teacher recruitment strategy in a state where 60 percent of teachers work within 20 miles of where they attended high school, according to the governor's office.
The governor said the program will allow young people in high school and above to get incentives and tutoring to consider pursuing a career in teaching.
"A great school system is all about teachers, having the best teachers you can," Gov. Ned Lamont said.
"Having teachers that look like you is really important, giving somebody that you can identify with," Lamont added.
Lamont was joined by state Education Commissioner Miguel Cardona, New Britain High School Principal Damon Pierce, New Britain Superintendent Nancy Sarra and educators and students.
Sandy Fraioli, the coordinator of Educators Rising for Connecticut, said Educators Rising is a club at schools and Central Connecticut State University teaches classes. New Britain has been participating.
The new cohort includes the school districts of Stamford, Hamden, Meriden, Hartford, New London, Danbury, New Haven, Waterbury, and Windsor.
They will join the Consolidated School District of New Britain, which has been implementing the program for three years, according to the governor's office.
The state plans to expand the program to the collegiate level and has secured a commitment with Central Connecticut State University, the governor's office said.
The Connecticut State Department of Education's Talent Office also works to recruit, develop, and retain a diverse workforce through: