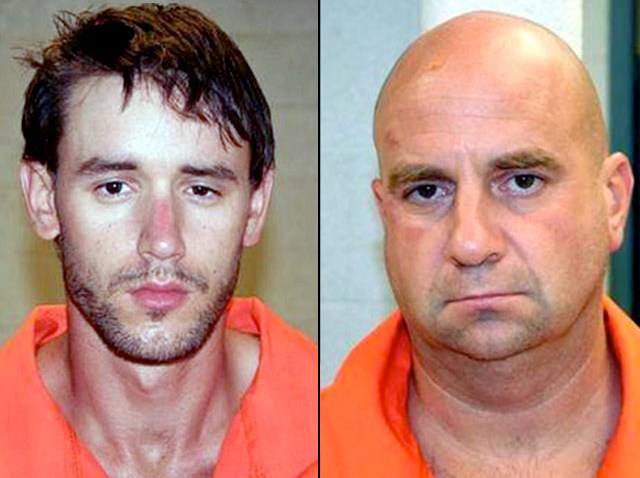 On Tuesday, a controversial book about the 2007 Cheshire home invasion and slayings hit the shelves, laying out in grisly detail, what happened that night, and the fallout includes allegations that the book jeopardizes one suspect's chances of a new trial.
The book, "In the Middle of the Night" by Brian McDonald, includes jailhouse interviews with Joshua Komisarjevsky, a suspect in the slayings, and portrays Hayes as smiling and laughing during the horrific crime and during his escape from the house, wearing the school hat of one of the girls who was killed.
Joshua Komisarjevsky and Stephen Hayes are accused of killing Jennifer Hawke-Petit and her two daughters, Hayley, 17, and Michaela, 11, during a home invasion and robbery inside their Cheshire home in 2007. Dr. William Petit was beaten during the ordeal, but was the only survivor.
Thomas Ullmann, who represents Hayes, said Komisarjevsky should be prosecuted for violating a court gag order by talking ton McDonald for his book if McDonald's statements are reliable.
Ullmann also said Komisarjevsky should be punished by having his trial go first. Hayes' trial had been scheduled first, with jury selection to start in January.
"This publication is a fictionalized account masquerading as a bona fide version of the Cheshire tragedies," Ullmann wrote in court papers. "In reality it is a scandalous, scurrilous salacious piece of journalistic trash that offends any notion of compassion and empathy for the victim and his family, and has the overwhelmingly probability of irrevocably affecting the defendant Hayes' ability to receive a fair and impartial trial."
McDonald, a freelance writer who also teaches journalism and writing, disagreed with Ullmann's criticism.
"I'm a journalist and I did my job as a journalist," McDonald said. "Every journalist in Connecticut would have liked the access I got."
McDonald said he has not heard from attorneys in the case. Asked if he would comply with any subpoenas for information, he said, "We'll cross that bridge if and when it happens."
Jeremiah Donovan, Komisarjevsky's attorney, said he did not know of the interviews until prison officials learned of them.
"No defense attorney in his right mind would allow a client to give detailed interviews to someone who was writing a book about a crime with which he was charged," Donovan said.
Donovan declined to comment on the motions. But he has previously said in court he would not be ready for a trial in January.
The Hartford Courant reports that the motions could be discussed during a pretrial motion held in Superior Court in New Haven on Thursday.