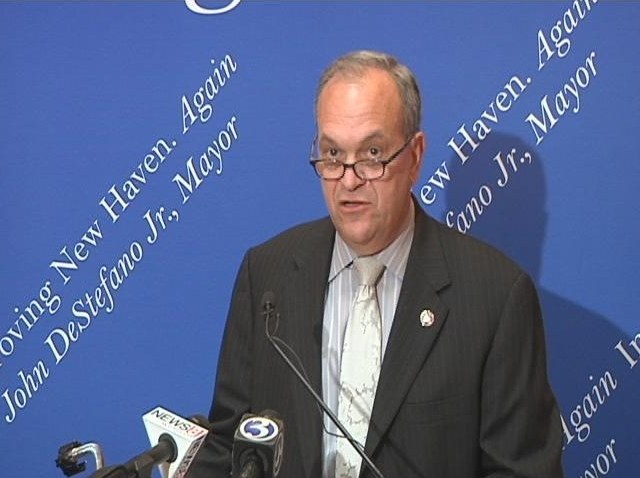 New Haven Mayor John DeStefano entered the Aldmermanic Chamber to applause Monday night, but he knows that approval might be short-lived, as he spelled out big changes he wants to bring to the Elm City.
"There will be a group somewhere that will be opposed to every one of these things. But we are deceiving ourselves and defrauding our children, were we to pretend this is a temporary economic situation," Mayor John DeStefano said during his State of the City address.
New Haven is facing a $47 million deficit over the next two years, and DeStefano said several city workers will lose their jobs by the end of February.
The exact number depends on Gov. Dannel Malloy's budget address on Feb, 16 , when New Haven will learn how much money it should receive in state aid.
"Citywide, there would be layoffs, but I just want to see the governor's budget address before acting on that," DeStefano said.
He also called for radical health care reform for city workers.
"The city must offer health care plans that resemble those held by the people paying the bill, our taxpayers," DeStefano said.
He proposed dramatically changing pension plans as well and called for a limit to early retirement eligibility and an increase in early retirement penalties, as well as calculating pensions on base pay, not overtime earnings and sick leave buybacks.
NBC Connecticut teamed up with our news partner the New Haven Independent to stream the speech live and host a web chat.
Robert J. wrote in, "Pensions should not include overtime. It costs too much in the long run."
Other ideas put forth by the Mayor include privatizing city-owned parking garages, outsourcing the cleaning of city schools to cut costs and charging everyone, even non-profits, for storm water treatment.
"So what we need to do is make the hard, but right choices," DeStefano said.
Darnell wrote in to the web chat "…if he wants to make some real and hard choices, start by cutting some of his staff!"
But ElmCityDaddy wrote "The Mayor needs these reforms for the benefits of all taxpayers. We can no longer afford business as usual!"