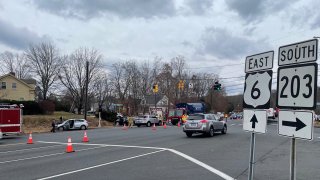 Two people were killed in a crash on Route 6 in Windham Monday afternoon and a third has serious injuries.
The crash took place in the area of Route 6 and Route 203, also known as North Windham Road, around 12:25 p.m.
State police said 91-year-old James Bobbit, of Mansfield Center was driving one of the cars when they collided. He was taken to the hospital where he later died.
The passenger in the other car, 90-year-old Carline Drysdale, of Livermore Falls, Maine, died at the scene of the crash, police said.
The 89-year-old driver of the second car was hospitalized with serious injuries.
The road was closed in the area for several hours but has since reopened.