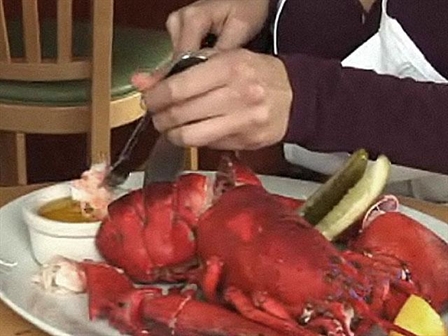 A proposed ban on lobstering off Southern New England would have no impact on most Connecticut lobstermen because they're already out of business.
The 20-odd lobstermen still at it would have to do something else for the five years a technical team wants to stop trapping lobsters.
Nick Crismale, of the Connecticut Lobstermen Association, has already switched to clamming. He says he's suspicious of the motivation for the ban.
"Up in Maine, they had their largest catch ever and they can't sell the lobsters, so take 10 million lobsters out of the supply, and they can move their lobsters," he said.
He says the ban proposal has no basis in an actual count of lobsters.
"It's just coming from computers, from an office in Massachusetts," he said.
Last year, the state government pulled the plug on the "v-notch program that put students onboard lobster boats to count female lobsters before they were thrown back.
This year at Branford Landing, he and his wife opened the "Lobster Shack," a fancy lunch wagon where they serve up lobster rolls at $14 apiece.
They knew it would be successful because his wife sold seafood lunches from a small trailer there the last few years.
The live lobster in Bud's Fish Market come from Nova Scotia, so the proposed ban wouldn't have any impact on inventory at Bud's.
"There are plenty of lobster up north," said the owner, Hal Beckley.