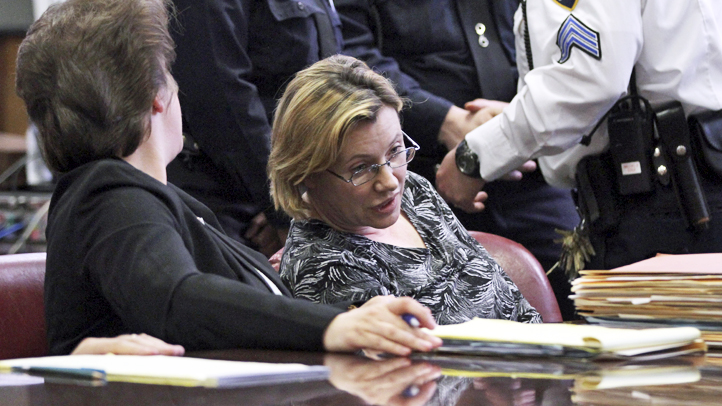 The suburban soccer mom accused of running a multimillion-dollar escort service out of an Upper East Side apartment for 10 years tells the "Today" show in a jailhouse interview that her arrest on promoting prostitution charges is "decimating" her family.
As she told her story, local lawyer, Norm Pattis, was by her side.

Anna Gristina, a mother of four, has been jailed at Rikers since her February arrest. A judge agreed Tuesday to slash her $2 million bond to a $250,000 bond or $100,000 in cash, and her legal team said they hope to raise the funds by the end of next week.

Gristina has spent the last four months behind bars, and Pattis commented on Facebook about the conditions.
"The folks at Rikers Island treated us well yesterday, but that big dead cockroach in the corner was a stark reminder we weren't at the Ritz," he wrote.
However, Gristina says she's had it easy compared to the challenges faced by her family as a result of her incarceration.

"I'm able to at least hide in here from it all. My children, they get followed by the press. My husband almost got run off the road yesterday by press," she told "Today."

"It's caused my son to come out of school at one point. It's caused my daughter to suffer from anxiety and she's seeing a doctor. It's just decimating my family." (Scroll down to watch full interview.)
Prosecutors say Gristina peddled prostitutes for more than a decade and boasted that she had law enforcement contacts. Her lawyers have said she was merely starting a matchmaking business, one that she maintains was completely legal. Gristina said she came up with the idea for an elite "sugardaddy" matchmaking service after seeing the show "The Millionaire Matchmaker" on Bravo.
Her plan was to match rich married men with dates. Pattis would not comment in the "Today" interview on the nature of the services provided. When Gristina was asked if her service assisted men seeking sexual partners, Pattis stepped in, simply likening it to Match.com.
Matt Lauer asked Gristina if she had ever been involved in running a legal, legitimate dating service in the past.
"Given the state's allegations in this case, we'd be fools to answer your question," Pattis said.

Gristina has said the Upper East Side apartment prosecutors allege headquartered her escort operation is in fact a tiny residential apartment her family kept because it wasn't too expensive. She said no business was run out of it.

She also claimed she was never read her rights on the day of her arrest and that the officers who took her into custody never identified themselves as police. When she asked for an attorney, she was told she didn't need one, Gristina claims.

The district attorney's office declined to comment on the case, citing its ongoing nature.

Gristina's attorney filed a motion to have the case dismissed earlier this week, alleging prosecutors squeezed her for information on her allegedly powerful clientele. Gristina's legal team has claimed that she was only indicted because she refused to turn over information that could bring those high-powered people down, but the attorneys deny she has any such information to impart.

"I have nothing to give them,'' said Gristina. "That's why I'm still here."
Visit msnbc.com for breaking news, world news, and news about the economy