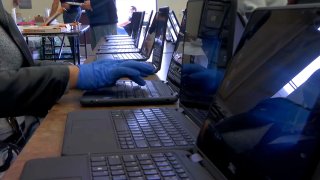 The Partnership for Connecticut, which works to provide access to educational and career opportunities for teens and young adults, is buying laptops for 60,000 laptops for Connecticut high school students.
In March, the board approved a plan to work with the State Department of Education and local school officials "to increase equitable access to education for up to 60,000 students enrolled in eligible high schools" due to the COVID-19 pandemic, which prompted the closure of schools and the beginning of distance learning.
The organization said the laptops from Dell will cost $396.54, a discount of 62.82 percent off list price, for a total of $23,760,818.28.  
 "The shift to online learning due to the COVID-19 public health crisis is difficult for teachers and families all over Connecticut but it is especially challenging for students who do not have access to the resources they need," Board Chair Erik Clemons said in a statement. "We're really pleased to be able to make this purchase so that high school students of all backgrounds have equitable opportunities to learn, both in the short and long term. This would not have been possible without the generosity and commitment of both Dell and Microsoft. In these extraordinary times, when demand is so high, these companies stepped forward as excellent partners to help the Partnership achieve its mission of equitable access."
Documents from that meeting say that program eligibility is limited to the high schools across the 33 Alliance Districts that serve significant populations of students who are eligible for free or reduced-price meals.
 "As a teacher from one of the Alliance Districts, I know what a big difference these devices are going to make for high school students," Sheena Graham, an educator at Warren G. Harding High School in Bridgeport and member of the Partnership's Board of Directors, said in a statement. "For many students and their families, the purchase of a laptop is simply out of reach, making it even more difficult for them to stay engaged in learning.  This new tool will really help, not only in the immediate crisis but for years to come."
Partnership CEO Mary Anne Schmitt Carey said 15,000 laptops are scheduled to arrive in May; 30,000 in June; and 15,000 in July.  
"The Governor's Learn from Home Task Force is already working on a process for distributing the devices to students in Alliance Districts based on highest need first," Schmitt Carey said.