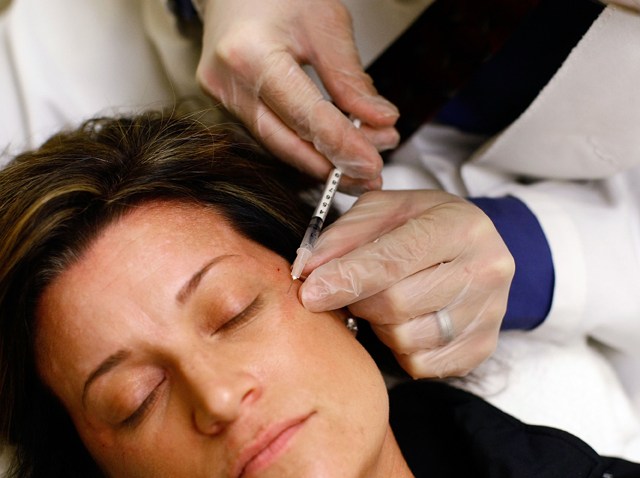 Fighting the hands of time used to require going under the knife, but today, most in-demand anti-aging procedures are nonsurgical.
They can all be done at lunchtime in a doctor's office.
The most popular way to soften wrinkles is Botox and Guilford plastic surgeon Gary Price has been injecting Botox into the brows of women and men for years.
"Botox is a very safe and (an) effective way of stopping muscles in the face from making wrinkles that we don't like, and it can be used very selectively to take those wrinkles away" Price said.
Most patients want to soften the lines that form between the eyebrows and some also like it injected into the "crow's feet" wrinkles around the eyes that are deeper when people smile. Botox costs around $450 per area and typically lasts about four months.
An injection called Dysport is newer on the anti-aging scene and is similar to Botox in price and results.
Dr. Iacob Marcovici, the medical director of the Aesthetic Medical Center in Avon, like many doctors, has seen an increase in nonsurgical outpatient procedures that allow women and men to return to work afterward.
"They can do it during their lunch. Then they can put their makeup and sunscreen on and go about their business and nobody knows they had a procedure" Marcovici said.
The second most requested procedure is fillers, a hyaluronic acid under the brand names like Juvederm, Perlane and Restylane. They are a gel-like substance injected into the face to fill in or "puff up" deeper wrinkles.
The doctors said patients request that fillers are injected into are the nasolabial folds -- the lines from the bottom of the nose to the outer corner of the mouth. Fillers can last up to six months and cost around $575.
Another filler, called Sculptra, is fairly new, lasts longer and plumps up the cheek area.
Years ago, pulling the skin back was all that could be done, Dr. Price said, while filling in the cheeks is now used to achieve a more youthful face.
"This is an area of the face that we really can't lift surgically and the reason that lifts don't work is that the problem isn't sagging in the first place. It's the loss of volume" Dr. Price said.
Donna Calabrese, of Killingworth, recently had Sculptra injected into her cheek area, which had become flatter over the years.
"When I've looked at the old photographs of myself I've noticed I've lost a lot of volume in my face, which was making the sagging seem more pronounced," she said.
Sculptra can be injected in about 20 minutes in a doctor's office. It can last two years or more and costs around $2,000, Price said.
Lasers and chemical peels round out the most desired nonsurgical procedures to fight the signs of aging, according to the American Society for Aesthetic Plastic Surgery.
"Chemical peels are underrated in some ways. They are extremely effective and people don't use them as much as they should. It's less invasive, quick results, no downtime and the results are astonishing," Dr. Marcovici said. Marcovici
For one kind of peel, he uses a professional grade of fruit acid, which gives a rapid exfoliation of the dead skin cells and makes pores appear smaller, he said. A series of five peels can run about $600.
Lasers can also decrease wrinkles and tighten skin, Price said.
Prices range from a few hundred dollars to a few thousand, depending on the type of treatment.
Avoiding wrinkles is not possible, no matter how good your genes are, but there is a major step you can take to slow the aging process on your skin, Dr. Marcovici said -- avoid too much sun exposure.
He recommends daily use of a sunscreen with an SPF of 30 that blocks both UVA and UVB rays.