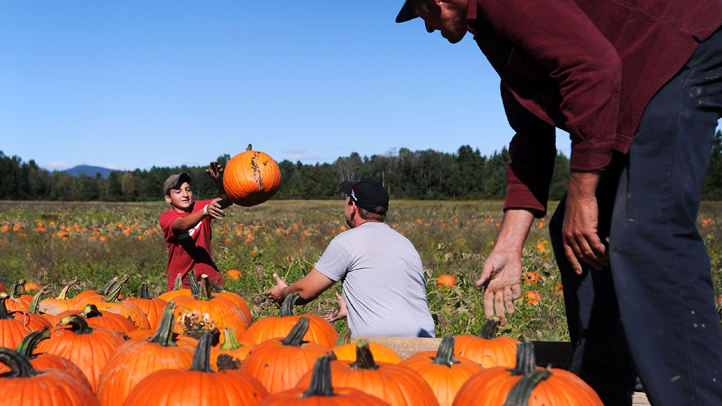 Michele Collins and her family knew they were farming some of America's richest farmland, the flood plain of the Connecticut River. But it's called a flood plain for a reason, a reason the Collinses, owners of Fair Weather Acres in Rocky HIll, now know well.
After Tropical Storm Irene, the river wiped out more than half of their beans, costing them $760,000. It also washed away their pumpkins, pumpkins they include in the price of a corn maze ticket.
"In total, we lost all 40 acres," Collins said. "They're floating somewhere in Long Island Sound now. It came to a total cost, a wholesale cost, of $88,000 in pumpkins."
Furthermore, she set the price of a ticket to the corn maze before it opened and she's not about to raise it, even though she has to buy pumpkins, importing them from as far away as New York.
"Everybody's still getting a pumpkin, but they probably will be smaller," she said. "We're stocking the maze with sugar pumpkins and fewer face pumpkins. The larger face pumpkins will be there, but they'll sort of be the golden nugget in the field. It'll be who finds it first."
The corn maze is on Cromwell Avenue at the Rocky Hill/Cromwell town line. It'll be open til Nov. 6 and Fair Weather Acres is counting on just that, fair weather, to bring out the crowds on the weekends.
Still, the Collinses are looking at selling equipment to pay some of their debts and at running their farm as community-supported agriculture next year. Consumers would pay up front for a share of the fresh produce, taking risk away from the farmers.