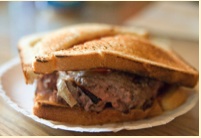 There are many, many places to get a good burger in Connecticut, but one local establishment is standing out on a national scale this week.
Time Magazine ranked the 10 best burgers in America and Louis' Lunch made the list. The New Haven restaurant's signature burger comes in seventh.
The "Time" article points out something you already know if you live here in Connecticut – that New Haven is the birthplace of the American hamburger.
"Many restaurants claim to be the birthplace of the hamburger. Louis' Lunch, in New Haven since 1900, is a leading contender," the article says.
Louis' Lunch was actually established in 1895, but history was made in 1900 when a man in a hurry rushed into the restaurant and said he wanted something he could eat on the run, according to the Louis' Lunch web site. So, Louis Lassen gave him ground steak trimmings between two slices of toast, creating the hamburger.
If you go, don't ask for ketchup. The only acceptable additions to the legendary burger are cheese, tomato and onion.
Of course, there are many good burger places in the state and these are some of NBC Connecticut viewer's favorites.
Harry's Place at 104 Broadway in Colchester has been featured in Roadfood for its incredibly juicy burgers. They also called Harry's cheeseburger "fast food perfection."
Harry's holds the distinct honor of being on the National Register of Historic places.
Max Burger in West Hartford serves up everything from a classic burger, to a gourmet chicken burger or a veggie burger. Trust us, your taste buds will be very, very happy here. The Inside Out Burger is delicious, but check out the full menu, including the specials.
Max Burger has two locations:
124 LaSalle Road, West Hartford, 860-232-3300
684 Bliss Road, Longmeadow, Massachusetts, 413-798-0101
Plan B Burger Bar is one of those places that you'll keep going back to, time and time again. They pride themselves on the fresh beef burgers, but you can get just about any kind of burger imaginable. The New Englander is made with lobster, smoked gouda, caramelized onion, lettuce, tomato and corn spread.

There are several locations in the state:
120 Hebron Avenue, Glastonbury, 860-430-9737
1638 Boston Post Road, Milford, 203-713-8700
4 Railroad Street, Simsbury, 860-658-4474
230 Tresser Boulevard, Stamford, 203-964-8353
138 Park Road, West Hartford, 860-231-1199
In the past, viewers have lauded the burgers at Prime 16 in New Haven and Orange. Build your own or pick one of the specialties. You won't find a honey truffle burger on too many menus.
Shady Glen in Manchester is another viewer favorite. It's not uncommon for people who've had a Shady Glen cheeseburger to say it's the best – ever.

Ted's Restaurant serves up the world-famous steamed cheeseburger. The main location is in Meriden, but there is another restaurant in Cromwell. It's worth a trip just to see how they are made. Like cheese on your burger? You'll never get more perfectly melted cheese than this.
Ted's operates the following locations:
1046 Broad Street in Meriden
43 Berlin Road, or Route 372, Cromwell
The Lockworks, 121 Towne Street in Stamford
At the Corner Pug in West Hartford, you can indulge on a blackened Cajun burger or knife and fork Irish nacho burger, but they also have salad, steak, mac and cheese, chicken and much more.
Harlan Social in Stamford is another viewer suggestion. The Harlan Burger sounds absolutely indulgent, served with cheddar ale sauce and bacon and onion jam.