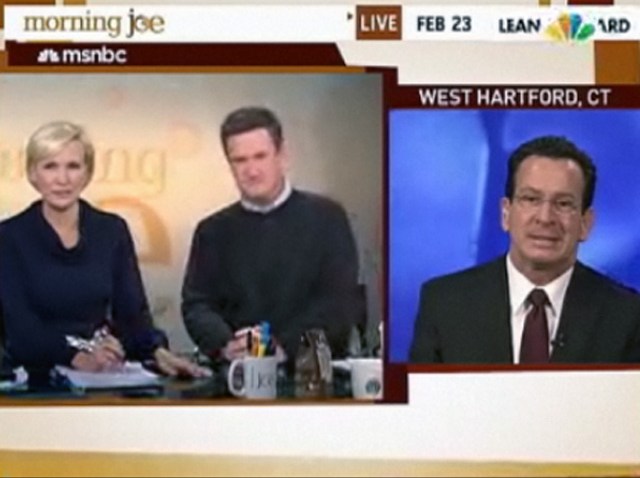 There was some tri-state rivalry on Morning Joe on Wednesday morning between Connecticut and New Jersey.
Before Gov. Dannel Malloy even appeared on the MSNBC show on Wednesday, New Jersey Governor Chris Christie took a shot at Malloy's plan to raise taxes while Christie's battle is with unions.
"I'll be waiting at the border to take Connecticut's jobs when he does it," Christie said. "He's got to read the governor's owners manual first."
That was in reference to Mika Brzezinski's asking Christie about his battle with unions, people she said, hold up the states.
The burden needs to be spread out as a matter of fairness, she said, and pointed out that "Connecticut's governor is raising taxes."
Malloy was unapologetic about his plans to whittle away a $3.5 billion deficit, one he said he inherited.
"The people of Connecticut, I think, are, maybe, a little bit different. They don't actually want to close nursing homes and put people on the street. They don't want to close schools. They don't want to cut funding to local school districts, so I think we are taking a different path, it's a Connecticut path."
Mika mentioned the state's jobs issue and a perception that the state is not business friendly. The state ranked 47th in a Tax Foundation study released in October 2010.
Malloy said Christie needs to do what's best for his state and Malloy will do what's best for his.
"I was hired to straighten it out. That's what we're trying to do."
Some of the talk focused on taxes.
"We are a wealthy state, as a result, people in our state pay more taxes," Malloy said.
But, the feisty part of the conversation dealt Connecticut's business climate.
"What's happened to Connecticut?" Joe Scarborough asked. It was once the most inviting state for small and large businesses, Scarborough said, but now he sees many closed manufacturing facilities in the state.
"Don't blame New England for what has really been a 50-year-trend and one that has really moved very rapidly in the last 20 years," Malloy said about manufacturing companies moving overseas. "Let's be honest, manufacturing in the United States is lower than it once was."
Connecticut is open for business, Malloy said. "We are coming to grips with what our issues are."
There is little chance that low-end manufacturing would invest in the Northeast, but the region could compete in high value-add and precision manufacturing, Malloy said.
Unions were another hot-button issue, especially when Malloy said the Morning Joe team "demonized" unions, something Scarborough quickly denied.
"We like Connecticut. We like New England. Good luck there buddy," Scarborough said.
When asked how he would go about reopening negotiations with unions, Malloy said to use the tools available.
"You have the right to lay people off, if it comes to that," he said, but unions have come to the table in some states.
The conversation ended with Malloy inviting Scarborough to stop by when he's in Connecticut – something that could happen in April when they both attend a Hartford Public Library event
You can watch the exchange here.

Visit msnbc.com for breaking news, world news, and news about the economy