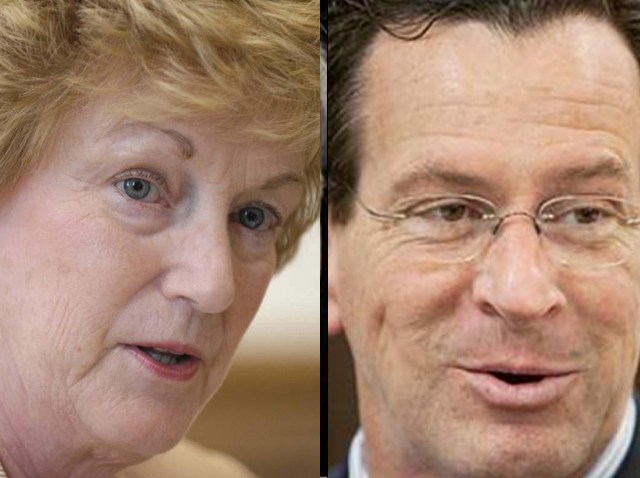 Governor-elect Dan Malloy said the estimated budget deficit in the 94-page transition budget he received on Monday from Gov. M. Jodi Rell is not a surprise and the budget he presents to the General Assembly in February will include many sacrifices.
Malloy, the first Democrat to hold the seat in 20 years, will take office at a time when there is a projected $3.4 billion deficit.
"I have made it a priority to leave office in January with the state budget balanced and in the black – and I will be doing just that," Rell said. "The following two fiscal years, however, are projected to end with multi-billion-dollar deficits and this transition budget reflects the real cost of doing business as a state government and offers a framework of options for closing the gap.
"We will take a close look at the material provided by Governor Rell as we put together our own budget for submission to the General Assembly in February 2011. That budget will be honest, clear, fair and balanced. It will be a tough budget, to be sure," Malloy said.
Rell said "the majority party can no longer avoid or afford to delay making the difficult, painful choices," and her budget office is prepared to assist Malloy's administration in any way necessary throughout the process.
Malloy said the estimated budget deficit does not come as a surprise. The Lt. Governor-elect is Nancy Wyman, the state comptroller.
"These are unprecedented fiscal times – the most challenging we've faced in recent memory. As I've been saying for months, there will be a lot of sacrifice in the budget, but it will be shared sacrifice. And it will start with the right-sizing of state government," Malloy said. "Ultimately, my goal is to make this a jobs budget, designed to get Connecticut growing again."
Rell said the state payroll is a bit larger this year because of raises, an extra paycheck and an extra day for leap year.
State employees receive 26 checks, one every other week. However, every 10 years, a 27th check is issued because of the way the pay periods fall.
The issue arises because bi-weekly pay programs pay employees in 14-day increments, resulting in a 364-day annual pay cycle, according to the governor's office. The extra check is estimated to cost the state more than $126 million, according to Rell, and the extra day will cost the state $7.4 million.
"It is important to note, however, that these recommendations do not reflect my priorities or those of my budget office. They are offered to simply provide standard budget information for the next Administration's review and decision-making," Rell said.