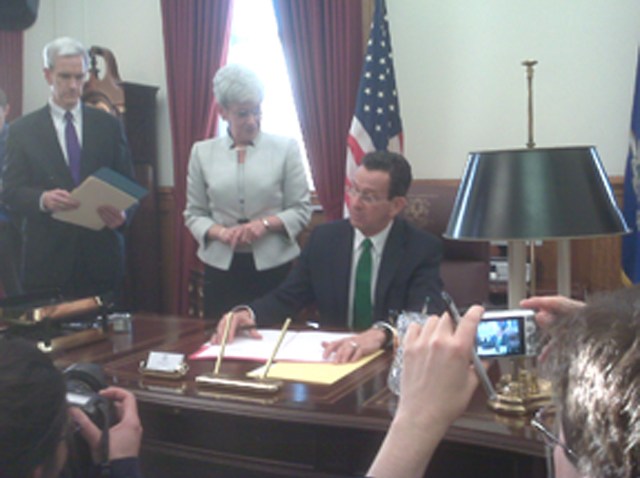 On his first day of office, Gov. Dan Malloy, signed three executive orders to demand fiscal responsibility and honest budgeting and to call for transparency in and continuity of government.

"These executive orders will open this new chapter in our state the right way," Malloy said in a statement released on Wednesday afternoon. "I ran for this office to create new jobs, keep the ones we have and importantly, get our state's fiscal house in order once again. By signing an order mandating that our state begin to transition into Generally Accepted Accounting Principles – the same standard used in other states, Fortune 500 companies and required of municipalities – we will begin to move toward honest budgeting and fiscal responsibility."
You can read the first executive order here.
One executive order requires that e-mails from the Gov. M. Jodi Rell administration be preserved for historical use and archival purposes.
You can read the second executive order here.
Malloy said he would sign the executive agreement in December after the Hartford Courant posed the question of what would happen to up to 161 million government e-mail messages from the last five years.
Rell's office issued a statement last month stating that they would not erase any emails.
"The Rell Administration has been working closely with the state Library, which sets the retention policy for state documents and e-mails to ensure that every record - written and electronic - is properly maintained pursuant to state law," Rell spokesperson Donna Tommelleo said last month. "The draft policy in question addresses backup tapes, or quite simply, copies of the copies. The originals will always be there."

The other executive order, Malloy said, ensures that there is no delay in or discontinuation of services or programs as his administration transitions into office.
"I'm looking forward to getting down to business on behalf of the people of Connecticut," he said in a statement.