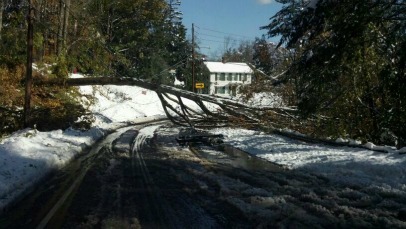 A state committee that is reviewing how the state, utilities and others prepared for and responded to the remnants of Hurricane Irene and the freak October snowstorm has submitted 82 recommendations to Gov. Dannel Malloy on Monday.
The Two Storm Panel has been meeting with utility executives, union leaders and local officials and others since late September and has touched on everything from procedures to trim trees to reduce power outages to communication problems between municipal officials and the electric utilities.
The storms caused between $750 million and $1 billion in damages.
At the height of both storms, hundreds of thousands of people lost power and frustrations mounted as power remained out for days. They left record numbers of residents without electricity, communications, heat or reliable supplies of water. It took nine days to fully restore power after Tropical Storm Irene and 12 days to complete restoration after the October storm.
One of the biggest problems was trees coming down, bringing down power lines. The reports warns that a Category 3 hurricane might black out the entire state and some areas could have no power for more than a month.
The recommendations include:
Increased collaboration between municipalities, state and utilities for tree trimming.
Establishing a Center for Research to study and make recommendations on storm hazard mitigation.
Additional emergency response training and exercises for municipalities, utilities and state.
Increased communication and planning between municipalities and utilities prior to storms.
Infrastructure hardening to withstand natural disasters.
Improve worst-case planning and staffing by utilities.
Develop reasonable performance standards for utility recovery and restoration.
The panel has also consulted with national experts, including officials in Florida who have experience dealing with hurricanes and tropical storms.
Malloy has said he wants a broad, objective evaluation of how Connecticut prepared for and responded to the two storms.
We have posted the full report online.
Copyright AP - Associated Press