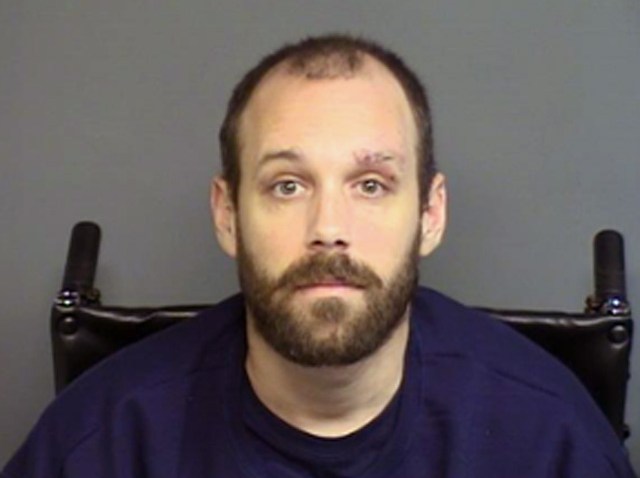 Christopher Simonelli is accused of going on a crazed rampage in Stamford in November that injured 22 people and damaged 14 cars on East Main Street.
On Thursday, Simonelli's lawyer entered a not guilty plea. The judge raised his bond from $100,000 to $150,000. The bond set by police does not reflect the seriousness of what Simonelli, 30, of Stamford, is accused of, the judge said.
East Main Street is busy and there easily could have been more casualties, the judge said.
Police said he committed an "intentional criminal" act when he drove a stolen truck into cars, garbage cans, a parking meter and a bus full of students. They also said he was under the influence of narcotics.
Simonelli's alleged spree ended with Stamford's Fire-Rescue Department pulling him from the car and taking him to Stamford Hospital, where he was admitted to the Critical Care Unit with life-threatening injuries. Now, he is wheelchair bound. His lawyer said he has two broken legs and is in constant pain. He will be brought to a secure hospital facility to begin rehabilitation, his lawyer said.
On Wednesday, police arrested Simonelli. On Thursday, they released more information about the bizarre chain of events.
Police told the Daily Stamford that Simonelli stole a truck and took it on a spree after a fight with his girlfriend.
The afternoon of destruction continued when Simonelli left his place of employment at 11 Elm Court, traveled through the CT Transit yard at 26 Elm Court and crashed through a rear driveway fence to reach Myrtle Avenue, police said.
Then, he continued to East Main Street and hit a 1990 Chevy van, which hit two parked cars, then turned onto East Main Street, rear-ended a 1999 Dodge Caravan then struck a 2007 Lexus head-on at Crystal Street. Then, he's accused of sideswiping a 1998 Mercury and crashing, head-on, with a 1998 Toyota Corolla seriously injuring a 15-year-old passenger.
After that, police said, the truck continued on and struck a 2008 Honda Pilot, head-on, pushing into a parked 1995 Chevy van.
From there, police said, Simonelli drove up on the sidewalk and sheared off a parking meter, drove an ornamental iron garbage can into a parked car and knocked over a parking control sign -- then veered across East Main Street and struck a First Student school bus broadside on the driver's side.
On the bus were 27 Stamford High School students who were heading home from school. Twelve of them were transported to Stamford Hospital, where they were evaluated and received treatment for injuries ranging from a fractured arm, to concussions, bumps and bruises and flying glass abrasions.
He stayed in the care of Stamford Hospital until his arrest on Wednesday.