New London Police have arrested a man who is accused of being under the influence when he crashed into a home on Bank Street early Saturday morning.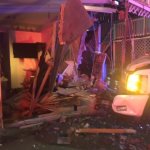 First responders were called to Bank Street around 3:15 a.m. after getting a report of a vehicle crashing into a building.
When crews arrived, they said they found a pick-up truck that had crashed into the corner of the home and ended up in a bedroom on the first floor, where people were sleeping. The driver of the pick-up truck, later identified by police as 23-year-old Jayden Bruce, of Groton, was the only person in the vehicle.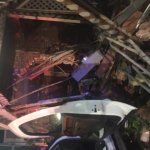 Firefighters searched the first floor and removed anyone who was inside. They said they also searched the second and third floor and found another person who was removed.
Crews quickly secured the natural gas to the home and Eversource was called to the scene. The building inspector was also called to the scene.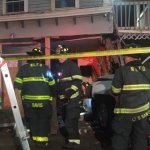 Due to the heavy damage to the corner of the home, firefighters said they used various shoring and cribbing materials to make it safe so three animals inside could be removed.
The residents of the home reported no injuries and were relocated after the home received possible structure damage, police said. While an examination of the home's structure is pending, officers said access is restricted.
The Red Cross is helping the residents who were displaced.
At the scene of the crash, Bruce reported no injuries and refused medical treatment, according to police. He was later transported to the hospital from New London Police Department.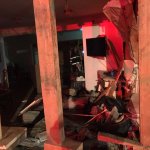 After an investigation, Bruce was arrested. Officers said he is facing charges including driving under the influence of alcohol and/or drugs, failure to drive right, traveling too fast for conditions and operating without insurance.