A Wallingford man accused of pretending to have terminal brain cancer and accepting more than $20,000 donated to him through fundraisers pleaded not guilty to larceny charges on Thursday.
Tyler Tomer was arrested in February after a lengthy investigation.
According to court documents, police were first contacted by Tomer's uncle who told them Tomer did not have cancer and was defrauding his family and people throughout Wallingford.
People who believed Tomer was sick came together to help him and fundraisers were held in Connecticut, as well as Kansas, In all, Tomer collected at least $22,680.80, police said.
Sheehan High School, where Tomer was a standout athlete, raised $6,000, a GoFundMe account raised $6,835 and a charity golf tournament at Lyman Orchard raised more than $10,000, according to Wallingford police.
When police looked through bank statements and medical records, they determined Tomer was never diagnosed with cancer, Bradley said.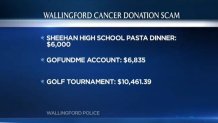 "We did a lot of search warrants for bank accounts, medical records, and it came down to the fact that he was never diagnosed with cancer. And in the end, he admitted to that," Bradley said. "It's horrific. It affects a lot of people — people who are fighting cancer."
When police asked why he did it, Tomer allegedly told them he owed money and the situation had gotten out of control, Wallingford police said.
Tomer's case was continued until March 23.