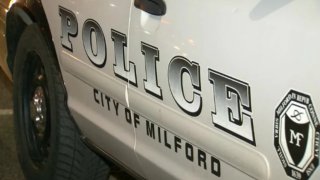 A man was arrested after threatening to kill a person, running after them and hitting them with a metal rake in Milford on Wednesday.
Milford Police said they were called to a home on Meadow End Road for a reported assault.
A person told officers that they were getting out of their car when they saw a man carrying a rake with four metal prongs raised in the air, and "unprovoked, began running towards the victim, threatening to kill them."
Authorities said the victim ran away and the man chased them while swinging the rake, eventually hitting them in the forearm.
The victim was injured as a result of the incident. They had a full no-contact restraining order against the suspected attacker, police said.
A witness told police they saw the incident unfold while driving. They allegedly got out of their car and disarmed the man, according to authorities.
The victim's child was inside their car at the time of the incident. The man was ultimately arrested.
Police said he faces charges including second-degree assault, breach of peace, threatening, risk of injury to a minor, criminal trespassing, and more. He was released on a $150,000 bond and is scheduled to appear in court on March 15.