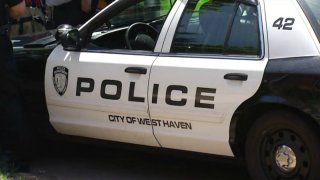 A man and a woman have been arrested in connection to a shooting at a Burger King in West Haven on Saturday that left one person in critical condition.
Emergency crews were called to Burger King on Campbell Avenue around 3:50 p.m. after getting a report of a person shot in the parking lot.
According to investigators, two men were in a verbal argument at a nearby bus stop and then it turned into a physical fight. During the fight, police said one man retrieved a 9 millimeter pistol from a fanny pack and shot the other man in the pelvis.
The victim, identified as a 37-year-old West Haven man, attempted to flee, but fell to the ground and was assaulted again, authorities said. He was treated by emergency medical personnel and was transported to the hospital in extremely critical condition.
The suspect, later identified as 31-year-old Traevis Mingo, fled the area while accompanied by a woman, later identified as 29-year-old Barbie Barbosa, and her young child. Both Barbosa and the 6-year-old child witnessed the shooting.
Police said Mingo was attempting to sell personal property online to make money and purchase bus tickets to leave the state.
A search warrant was executed on Barbosa's New Haven home on Sunday morning by the West Haven Police Department Special Response Team. Investigators said Mingo and Barbosa were found inside the apartment and were taken into custody. The child was not present and was safe with another family member.
While executing the search warrant, police said they found numerous items of evidentiary value in the home and seized them.
Mingo is facing charges including assault, criminal possession of a pistol, illegal discharge of a firearm, risk of injury to a minor, reckless endangerment, six counts of violation of a protective order, interfering with police and disorderly conduct. His bond is set at $1 million.
Barbosa is facing a risk of injury to a minor charge and her bond is set at $25,000.
At this point, investigators said it appears the altercation and the shooting were random acts of violence. It is not believed that Mingo and the victim had any connection.