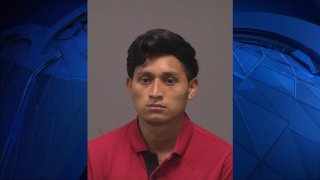 Police have arrested a man in connection to a fatal stabbing that happened in New Haven last week.
Officers and firefighters responded to a sidewalk on Congress Avenue at Cedar Street last Tuesday around midnight after getting a report of a person stabbed.
When officers arrived, they said they learned there had been a dispute and an argument between two men before one stabbed the other and fled on foot.
An ambulance transported the man who was stabbed, later identified as 29-year-old Secundino Ramirez, of West Haven. He was later pronounced dead, police said. Ramirez's death was being investigated as a homicide.
Investigators said Ramirez and two friends were traveling around the city when the driver of the vehicle stopped on Congress Avenue and Cedar Street. It is believed that the three men had been drinking alcohol during the night.
Ramirez and the other occupant in the car, later identified as 21-year-old Marcial Morales-Gutierrez (also known as Marcial Lopez-Morales), of New Haven, wanted to travel to the Fair Haven section of the city, but the driver of the vehicle did not want to, police said.
Ramirez and Morales-Gutierrez got into an argument about who should buy more alcohol, left the vehicle and then drove away. The argument escalated into a fist fight. Ramirez was then fatally stabbed before Morales-Gutierrez fled the scene, according to police.
Detectives worked to investigate the case and received help from members of the community, Yale University Police Detectives and Immigration and Customs Enforcement, also known as ICE. Surveillance video captured from the area helped detectives investigate the case.
A few days after the stabbing, police said they were able to positively develop Morales-Gutierrez as the only suspect in Ramirez's death.
Detectives said they also learned Morales-Gutierrez had an active warrant for failure to appear out of West Haven and a wanted for questioning BOLO in regards to the homicide was generated for him on Friday.
On Saturday, two officers on patrol spotted Morales on Garden Street, where he was detained and arrested for his failure to appear warrant, police said.
Detectives then conducted a formal interview with Morales, which allowed them to get probable cause for Ramirez's murder. An arrest warrant was issued for Morales-Gutierrez on Sunday, according to investigators.
On Tuesday, police said they arrested Morales-Gutierrez and charged him with murder.
Ramirez's death marks the third homicide in New Haven in 2020.