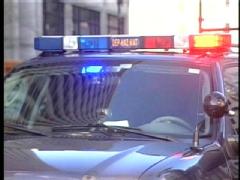 Police have arrested a Norwich man for drunk driving after an early morning car crash on Route 32 in Waterford killed two people Sunday.
Joseph Donohue, 27-years-old, of Orchard Street was charged with driving under the influence.
Police say that around 1:40 p.m., Donohue was driving his Dodge pickup truck when he collided with a blue Scion in the area of Route 32 and Old Norwich Road.
The 23-year-old driver of the Scion, Joshua A. Lecce, and one of his passengers, 21-year-old, Danielle M. Nicholson were pronounced dead at the scene. The remaining two male passengers in the Scion, 22-year-old, Amadeaus Harris and 21-year-old Brian Hahnel in were treated at area hospitals.
Donohue was taken to Lawrence & Memorial Hospital for treatment. He remains in police custody on a $500,000 bond, pending his arraignment at New London Superior Court.
Investigators said they don't know which way the two cars were headed, and they're not sure if speed or weather played a role, although there was some rain on the roads.
Waterford Police are asking any witnesses to the crash to call them at 860-442-9451.