South Windsor police have arrested a Waterbury man accused of soliciting dozens of local businesses to buy ads in a publication they said does not exist.
Frank Cusano, 63, of Waterbury, is accused of approaching businesses to buy $100 ads in a fictitious magazine called "The Windsors."
He was arrested on Friday and charged with 19 counts of sixth-degree larceny and 50 counts of criminal attempt to commit larceny in the sixth degree.
The police investigation started in March when the department received complaints after Cusano allegedly solicited South Windsor businesses and told them he was selling advertising for "The Windsors."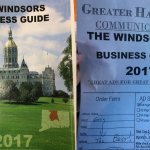 One person who Cusano solicited said the man told him he would be distributing the magazine to everyone in town.
However, when officers spoke with the company that is printing the publication, representatives said only 15 copies have been made.
Police said their investigation also revealed that Cusano's publication was fictitious and the company did not exist.
Nineteen companies paid Cusano while dozens of businesses Cusano is accused of soliciting declined to give him money, according to police.
Cusano was released on $1,800 cash bond and he is due in court on April 20.