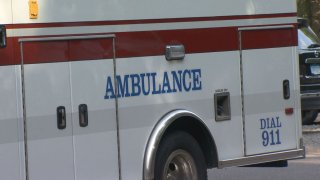 A man has been charged with murder in connection to a deadly stabbing in Stamford that happened last summer.
On Monday, police responded to Dutchess County Jail and took custody of 32-year-old Donald Copeland, of Bridgeport. He was transported to Stamford Police Department and was charged with murder.
Copeland's murder charges are in connection to a stabbing on Culloden Road in Stamford on August 18, 2021, according to police. A 43-year-old man, later identified as Jimmy Louis, was found with several stab wounds and later died at the hospital, they added.
An autopsy was performed and Louis' death was ruled a homicide.
Louis had family in Stamford. Police said he did not have a residence at the time of his death.
In addition to the murder charge, Copeland was also charged with a separate warrant for possession of a controlled substance, investigators said. He is being held on a total bond of $2,500,000.