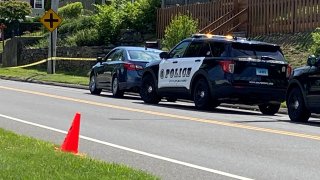 Police have arrested a man in connection with the shooting death of another man in Milford Wednesday afternoon.
Officers were called to Edgefield Avenue just before 1 p.m. for a report of a fight and possible gunfire.
They found a victim, identified as 35-year-old Justin Spray, lying in the yard of a home there and suffering from a gunshot wound. Spray was treated at the scene and then rushed to the hospital, where he later died, police said.
Police also located 29-year-old Matthew Miner, who had been detained at the scene by people who witnessed the shooting.
Officers took Miner into custody and seized a handgun believed to be used in the shooting, according to police.
Miner is charged with murder, criminal possession of a firearm, carrying a pistol without a permit, and altering/removing identification marks on a firearm.
He is being held on $1 million bond and is scheduled to be arraigned in court Thursday.