A 27-year-old man is dead and a woman has been arrested after a stabbing during a domestic incident at an apartment in East Haven Saturday, according to East Haven police.
Police said a man was stabbed by a woman in a first-floor apartment at the Foxon Woods apartment complex on Old Foxon Road around 12:45 a.m.
The victim, identified as New Haven resident Glenton Whyte, was taken to Yale-New Haven Hospital where he died of his injuries.
The woman involved in the incident, identified as 28-year-old Cleisha Greene, was arrested. She was charged with second-degree manslaughter and issued a $250,000 bond.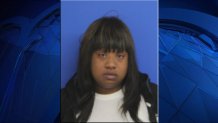 Police told NBC Connecticut this is a case of domestic violence, but said they've never dealt with the pair before. The investigation into what led up to the stabbing is still early and they aren't ruling anything out.