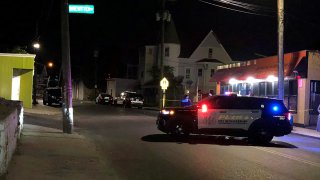 A 32-year-old man is dead after he was shot outside a restaurant in Waterbury early Thursday morning, according to police.
Officers responded to Bertie's West Indian Restaurant at 928 North Main St. at 12:47 a.m. after someone reported gunshots and they found Lechard Santos, of Waterbury, on the ground outside the parking lot, police said.
He was transported to Saint Mary's Hospital, where he was pronounced dead at 1:26 a.m. Police are investigating his death as a homicide.
Police are looking for 32-year-old Joseph Whitaker in connection with the murder. He's been identified as a suspect and is considered to be armed and dangerous.
Whitaker has a warrant out for his arrest with a $2 million bond.
Investigators have recovered a vehicle in Southington, which officials believe Whitaker drove. It is a 2012 silver Acura TL, according to authorities.
Police said the preliminary Investigation indicated that he was in an altercation outside of Bertie's West Indian and Santos was shot once.
The Waterbury Police Department's Major Crime Detectives are investigating and they are asking anyone with information to contact the Waterbury Police Department's Detective Bureau at (203) 574-6941 or Crime Stoppers at (203) 755-1234.
This is the third fatal shooting in Waterbury since Saturday morning.
A 28-year-old Waterbury man died after a shooting during a fight outside Mikey's Jamaican Restaurant on East Main Street early Saturday morning. The restaurant owner was arrested and charged with murder, according to police.
Late Saturday night, the 51-year-old owner of a social club, the Salsa Tropical Social Club, on Watertown Avenue in Waterbury was shot and killed. A man has been arrested and charged with murder in connection to the shooting.
Spagnolo said the city has seen a 28+ percent increase in violent crime, year to date, and they are trying to combat the issues.
There have been 10 homicides in 2022, eight were committed with a gun, one was a beating and another was a stabbing.
Spagnolo said officers are working harder than ever with less staffing and they have made arrests in nine.