Hartford police have arrested a man accused of posing as a police officer and say he was found with all kinds of police paraphernalia, including a Crown Victoria Police Interceptor.
Police said the investigation began when a caller reported an unmarked police vehicle making traffic stops on Albany Avenue on May 10. The caller said the driver was acting suspicious.
Investigators identified the driver as 54-year-old Jade Dignoti of Simsbury. They seized a 2011 Crown Victoria Police Interceptor, along with red and blue emergency lights, a Winchester Police 12-gauge shotgun, live ammunition, and various other police-related tools, clothing, and prescription drugs.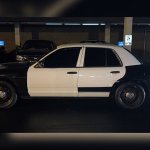 Dignoti was arrested Thursday in Glastonbury and charged with impersonation of a police officer, unauthorized use of color lights, possession of narcotics and weapons in a motor vehicle. He was released on bond and is scheduled to appear in court on July 8.
Police are trying to track down anyone that may have been stopped by Dignoti. If you recognize the car above, contact Hartford police.