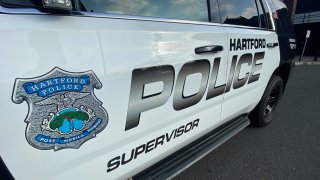 A man is in critical condition after being shot and ultimately located by police at the scene of a car accident in Hartford Tuesday night.
Hartford Police said they were called to a reported multi-car crash in the area of Farmington Avenue and Woodland Street at about 6 p.m. Police said some parked vehicles were damaged during the crash.
Responding officers found a man in his 20s with a gunshot wound. He was taken to the hospital where he remains in critical, but stable condition, according to police.
No other injuries were reported and police believe the shooting happened elsewhere.
The location of the shooting is unknown at this time. The Hartford Police Major Crimes and Crime Scene Divisions are investigating.
Anyone with information is asked to contact police by calling their tip line at 860-722-8477.