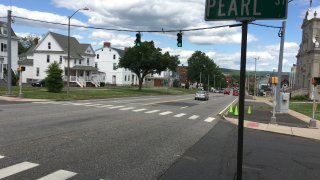 Middletown police are investigating the stabbing death of a 27-year-old man early Sunday morning and they are asking anyone with information to call them.
Officers were called to Washington Street near Pearl Street shortly before 2 a.m. after reports of a man being assaulted with a knife.
When authorities arrived, they said they found 27-year-old Andrew Brown responsive in the roadway, in need of medical attention.
Emergency services arrived shortly after and transported Brown to Middlesex Hospital, where he died later that day from his injuries, police said.
"Our thoughts and prayers go out to Andrew's family and friends," Middletown police said in a statement.
Anyone with security cameras in the area of Washington Street and Pearl Street is urged to contact the Middletown Police Department at 860-638-4000 with any video footage or information.